Given that 1.3 million die and up to 50 million get injured annually, of all the education invested in, why is driver education not at the top of the list?
If flying planes were treated the same way as driving cars, planes would fall out of the sky daily.
Many of us drive every day!
Few daily activities carry the danger of big money, of injuring or seriously injuring another person, including death, not to mention the related emotional trauma.
Driving does.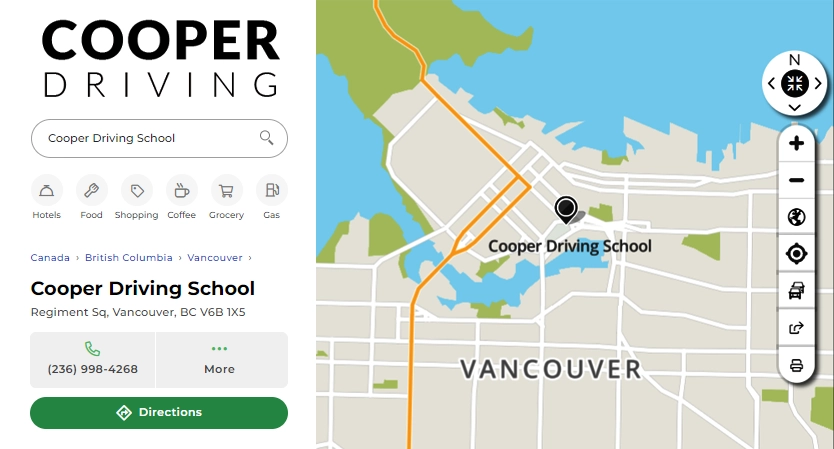 King Edward Station is where i start my lessons.

131 Regiment Square is where I park my cars, which is right above Costco (605 Expo Blvd.)
<!—-><!—->
<!—->
<!—->
<!—->
<!—-><!—->
<!—->
<!—->
I believe the road markings need to be changed to fit more naturally with how we see and think – eyes and brains. We know so much more about how our brain and vision work than 100 years ago when road lines were first painted onto […]
<!—-><!—->
<!—->
<!—->
<!—->
<!—-><!—->
<!—->
<!—->
The go go go culture of driving. Fastest route, go go go, you can make the light, come on, move it, pressure to move faster, is very dangerous brainwashing that a vast majority of the driving population have bought into without thinking. The standard we seem to be […]
<!—-><!—->
<!—->
<!—->
<!—->
<!—-><!—->
<!—->
<!—->
Vigilant Visual Scanning is the most potent skill I share with my clients because we all have eyes and can dramatically increase our visual awareness when managing complex traffic environments. But when I see a crushed automobile looking like a crumpled piece of paper following a collision, […]
Educational Safety Videos
Don't take our word for it – here's what our clients say:
This is my third or fourth shot at learning how to drive and I've always let my anxiety and fear get in the way. I specifically did my research and am so happy that I found Cooper's driving school. Working with Cooper has been an incredible experience so far (still learning). He is knowledgable, patient, and encouraging and knows how to check in with me to see where my energy and anxiety levels are at. He also knows how to break down his observations about my driving and seems to know me better than I know myself at times which I can highly appreciate.
After my 5th or 6th lesson, it felt like I've had a breakthrough and can assess that my driving skills are not only improving but more importantly my confidence is growing and I'm getting less anxious about driving in general – which is huge for me!!! I really can't wait to continue my lessons with Cooper and finally start driving in the city 🙂
Cooper is the most professional Driver Instructor I have ever come across. He is cool and thorough about his approach. He teaches in most friendly and fun way, I learned to drive smooth and passed the road test today. He does extra efforts of leaving you an audio recording after driving session, on areas where l lacked and potential improvements that needs to be worked on. Those audio recordings are a digital record of how you have been progressing.
I love his methodical and friendly approach towards confidence building.
I'm really happy that I chose him as my driving teacher. He loves doing his job and I think that's a reason why he doesn't shy from putting extra efforts for the success of his students.
I always love his energy. Highly highly recommended to anyone.
Cooper is an extraordinary driving instructor and is a delight to talk to. I passed my road test on my first attempt. More importantly I am confident to drive having a deeper understanding of why we do things a certain way which was reflected by my examiner who said they felt safe with me driving. Knowing and Teaching are two very different things. Most instructors I have worked with "Know" how to drive so they just point out things you do wrong when driving. Cooper on the other hand, learns about your bad driving habits and teaches you how to convert them into good ones. Cooper was always on time, never rushed when the session time was over, sent audio recording on things he observed and overall showed passion towards helping you be a better driver. Overall I'm sad to not be able to drive with him anymore so would highly recommend learning to drive from him! 🙂
I had an amazing journey working with Cooper. It had been a while since I last drove a car, so the first few sessions were about me brushing up those skills. Cooper was accurate in identifying my weak points and patiently working on them. It wasn't long after I started to feel comfortable behind the wheel. Cooper's goal is to make you a safe driver, but if you think this is not going to help you pass your test, I passed my class 5 on the first attempt.
After each session he sends a detailed voice message with the main takeaways. I looked forward to those every week.
I highly recommend Cooper if you want to be safe out there and have fun in the process.
P.S. He loves chocolate.
Cooper is AMAZING! I reached out to Cooper with very short notice and he managed to accommodate me in his schedule and take me on a few driving lessons and took me to my class 5 driving exam. He is very knowledgeable and friendly so that makes a great teacher. He let me drive and I did not feel like he had his foot on the break all the time (compared to another driving academy I went to before Cooper). The way that he pointed out my mistakes was great since it allowed me to learn from them. He managed to help me fix some bad habits I had from my time driving in my home country. I really enjoyed learning with you and chatting with you Cooper. Thanks a lot!!!!
131 Regiment SQ is where I park my cars, which is directkly above Costco 605 EXPO BLVD
King Edward Station is where I start my lessons